The global solar energy industry has witnessed massive growth over the last few decades with several top solar energy companies leading the way. Be it solar thermal, solar photovoltaic (PV), solar panel, or residential solar PV systems, the global solar energy industry is posing strong growth.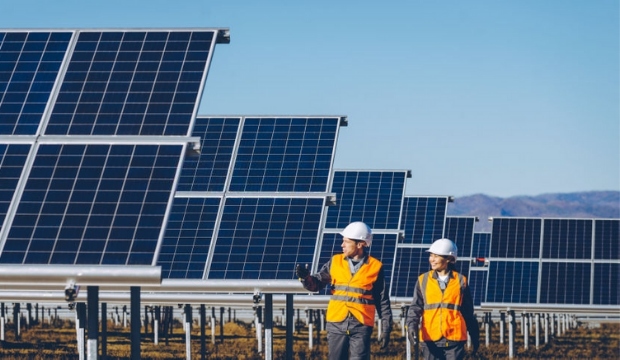 Below are the top 10 solar companies in the world for the year 2020. You can also check out the top 10 best solar Panels in India.
1. JinkoSolar
JinkoSolar is currently one of the world's largest solar energy companies and top solar panel manufacturers. Headquartered in Shanghai, China, JinkoSolar distributes its solar products and sells its solutions and services to a diversified international utility, commercial and residential customer base in China, the United States, Japan, Germany, the United Kingdom, Chile, South Africa, India, Mexico, Brazil, the United Arab Emirates, Italy, Spain, France, Belgium, and other countries and regions. In 2018, JinkoSolar shipped a total of 11.4 GW of modules, making it the largest solar panel manufacturer in the world.
Visit JinkoSolar.
2. Canadian Solar
Canadian Solar is another one of the largest solar panel manufacturers in the world, providing the world's leading solar PV modules and advanced solar energy solutions. Canadian Solar is headquartered in Ontario, Canada, but has production facilities in China, Indonesia, Vietnam and Brazil, where ingots, wafers, solar cells, solar PV modules, solar power systems and specialized solar products are manufactured. By far, Canadian Solar has shipped more than 32 GW PV modules over its 18-year history, it also has over 9.5 GW shipments in the pipeline.
Visit Canadian Solar.
3. Trina Solar
Trina Solar is the world's largest solar panel manufacturers based in Changzhou, China. Trina solar manufactures a huge range of solar modules for residential, commercial and utility-scale installations. Its main products include ingots, wafers, solar cells and solar modules with the latest solar energy technologies such as bifacial, half-cell, dual glass, PERC, standard p-type mono-crystalline, and multi-crystalline cells. Trina Solar is currently the largest supplier of solar equipment suppliers in India.
Visit Trina Solar.
4. SunPower Corp
SunPower Corp has been in the solar panel manufacturers for over 30 years. Today, this Silicon Valley-based solar energy company is already the world's leader in solar innovations. The company designs and manufactures crystalline silicon photovoltaic cells and solar panels, providing high-efficiency solar panels for both residential and commercial purposes around the world. SunPower's total solar energy generated has surpassed 18,000,000 MWh in 2019.
Visit SunPower Corp.
5. Hanwha Q Cells
Hanwha Q Cells is one of the world's largest solar energy companies and solar panel manufacturers. The company is headquartered in Seoul, South Korea and R&A based in Thalheim, Germany. Hanwha offers a huge range of solar panel products covering from small modules to large-scale solar power plants. Currently, Hanwha Q Cells is one of the top solar panel suppliers in European and Japanese markets.
Visit Hanwha Q Cells.
6. JA Solar
Based in Shanghai, JA Solar is one of the world's top solar energy companies and the largest manufacturers of high-performance photovoltaic (PV) products, with a business portfolio including wafers, cells, modules and photovoltaic power stations. Over the years, JA Solar has been shipping its solar energy products across Europe, the Americas, Africa, and Asia. The company's annual sales revenue has surpassed $3 billion last year. As of 2017, JA Solar's accumulative shipments reached 27 GW.
Visit JA Solar.
7. First Solar
First Solar has developed, financed, engineered, constructed and currently operates many of the world's largest grid-connected PV power plants. Their experience across the solar value chain reduces risk while delivering more reliable, dependable and cost-effective solutions.
Visit First Solar.
8. SF-PV
Jiangsu Shunfeng Photovoltaic Technology Co., Ltd., registered and incorporated in Wujin District in October 2005, is a high-tech enterprise engaged in the research and development, production and sales of the solar cells. 100% of its share is held by Hongkong Shunfeng Photovoltaic Holdings Co., Ltd. At present, the company with the registered capital of 988 million yuan, is located in No. 99 of Yanghu Road in Wujin High-Tech Industrial Development Zone of Jiangsu Provence, covering an area of 150 mu and holding over 1,000 staff. The first cell production line was put into operation in March 2007. The main products include 156 monocrystalline solar cells and 156 polycrystalline solar cells and in 2013, its production capacity was up to 600 MW.
Visit SF-PV.
9. Yingli Solar
More than 85 million Yingli solar panels (representing over 20 gigawatts) have been shipped to more than 90 countries, including Germany, Spain, Italy, Greece, France, South Korea, China, Japan, Brazil, Australia, South Africa, Mexico and the United States. Their dependable solar panels have been proven to perform in diverse climates and environments nearly everywhere under the sun.
Visit Yingli Solar.
10. ReneSola
Founded in 2005, and listed on the New York Stock Exchange in 2008, ReneSola (NYSE:SOL) is a leading international manufacturer and supplier of green energy products. Leveraging its global presence with offices and warehouses in more than 16 countries and expansive production facilities and sales networks, Renesola is well-positioned to provide the highest quality green energy products and on-time services for EPC, installers and green energy projects around the world.
Visit ReneSola.