If your electricity bills keep going up in the summer and your house doesn't seem to be getting more comfortable then an accumulation of warm, humid air in your rooms could be responsible.
A solar fan can circulate this air, keeping your home cooler without costing you a dime in additional electricity costs.
When the heat of summer arrives, it is more than essential to install a fan at home. And as these days more and more devices are powered by solar energy, the fan is no exception to this rule.
Practical and functional, the models that work with the sun allow you to reduce your bill while enjoying great freshness at home. You still have to find the best solar fan that suits your needs. And there is no shortage of models or brands on the market.
That's why SolarClap has written this article for you that not only gives you a list of top solar panels available in the market but also helps you with a solar fan buying guide.
---
Top 5 Best Solar Fans in India 2022
1. Impex Breeze-D1 Solar Rechargeable Fan with LED Light Dual Speed Mode 3 Blade Table Fan
Features:
22 pcs LED NIGHT LAMP
FAN SPEED: UP TO 6 HOURS
LED UP TO 90 HOURS
MOTOR RPM: HIGH SPEED UPTO 1700+-10%
2 STEP SPEED AND LIGHT SELECTION
2. i-Solarlite® Bena Solar Table Fan 12-inch, Solar Fan
Features:
Solar table Fan works directly on Solar panel and battery
12-inch Diameter. Highest Speed 1300 rpm with Backup 4-5 hours
15W9V Solar Panel with 5-meter cable
Auto-rotating knob with adjustable screw. Lowest Speed 300 rpm with a backup of 20 hours
Inbuilt LED light of 2 W in case of emergency
3. Solar Fan with solar panel. Free electricity from sun Belifal Brand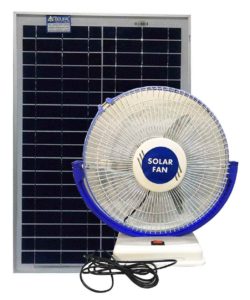 Features:
Package: (A) 12V 20Watts Solar Panel, (B) DC Table Fan.
Solar fan Free electricity from solar panels and cool breeze for the next 25 years.
Fan consumption per hour is only 15Watts. During day time from 9 AM to 4 PM, you can use the fan by a direct solar panel.
20W Solar Panel included. Please note that this fan will not work after 4 or 5 pm as there is no backup battery or storage in this model.
4. SUN RITE Solar Fan with Hybrid Technology
Features:
Comes with Solar Panel and A/c power cord.
Material: ABS Plastic
12″ solar Hybrid fan
180-degree rotation (Oscillation)
5. USC Solar Table Fan 01
Features:
Connect the positive and Negative terminals directly to the solar panel
This is an innovative product
Consumes less than 15W
---
Solar Fan Buying Guide
While buying a solar fan is a wise choice, it doesn't mean that you should get the first fan you come across. There are a number of factors to consider before you pull the trigger.
The power
In our price comparison, the power of the solar fan is a very important criterion to consider. This power criterion is essential, knowing that the solar fan mixes the air in the volume in which it is installed, in the same concept as a conventional fan, but with the difference that it is powered by an outdoor solar panel. Opt for a solar fan whose autonomy is optimized.
A model equipped with a powerful and powerful battery to store energy is ideal for enjoying a long service life. In addition, the power of the photovoltaic panel exposed to the sun and connected to the solar fan is also essential.
Size
The size of your future solar fan largely depends on the size of the room you want to cool. Obviously, the solar fan to ventilate your veranda will not be the same size as the one you will use to ventilate your truck, for example. Opt for a sufficiently large solar fan according to the surface to be cooled. In addition, you will also save on your energy bill since your fan uses the sun's energy to operate, and by operating even 24 hours a day, you do not risk an explosion in your electricity bill.
Design
How to buy a better value-for-money solar fan? In addition to the performance of the solar fan, design is one of the selection criteria that should not be overlooked. There are several fan designs depending on the use, but also on the specific needs you are considering for your device. There are then wall fans which are placed on a wall, a ceiling, or in an opening. There are also portable solar fans that can be installed inside your home in the same way as a conventional fan. In addition, manufacturers now offer facade solar fans dedicated to the ventilation of isolated places such as garden sheds.
Utilization Facility
Before doing your research on where to buy a new solar fan, prefer a device that gives you great ease of use. Indeed, with the evolution of techniques and products, manufacturers are always offering more ease and practicality in the use of solar fans. They have the advantage of being very simple to install in addition to not being too bulky. It is now enough to choose a location sufficiently exposed to the sun for your photovoltaic panels and connect them to an energy storage battery to operate the solar fan.
---
Related Articles